SENTER ST612 hot sale telecom cable fault locator TDR

Product Description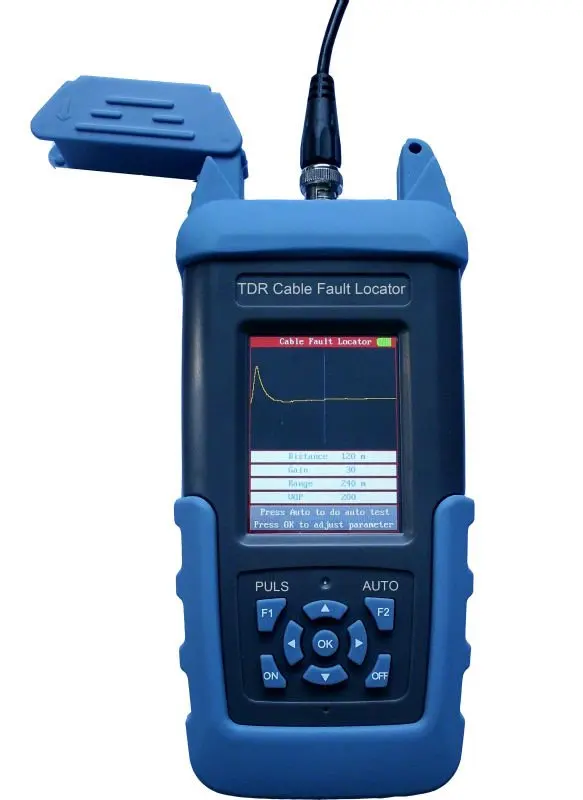 Overview
This cable fault locator is designed for ease of use, portable, light weight and easy for carry.
It takes the time domain reflectometer (TDR) for measuring the exact fault location such as the broken line, cross faults, earthing, poor insulation and poor contact of the lead covered cables as well as plastic cables.
As you set proper wave velocity, just press Auto key, you will get the test result within 2 seconds.
It is an effective tool to reduce troubleshooting time, improve work efficiency and reduce labor intensity of line maintenance staff. It also can be used in line projects acceptance and inspectionof electrical cables.
Features
1. No test dead zone
2. Fast test speed and accurate test distance
3. Portable and easy to carry
4. Large colorful LCD display;
5. humanized operation interface; six function keys can do all the tests.
6. High-energy Li battery, continuous work 10 hours
Specifications
1) Max range: 8 km (16/32KM optional)
2) Highest resolution: 1m
3) Dead Zone: 0 m
4) Power consumption: 1W
5) Weight(kg): 0.42kg
6) Dimension(mm): 200×90×43mm3
7) Working temperature: -15°C~+45°C
Storage temperature: -20°C~+55°C
8) USB storage (optional): transmit wave form to U disk, and analyze the wave form on computer.
Accessories Supplied complete with:
1) Carry case.
2) Re-chargeable battery and charger/adapter.
3) Test Line
4) User Manual
5) CD (Just for USB function)
6) U-disk (Just for USB function)
Packaging Shipping
Our Services
Discounted Sample
12 months warranty
Factory Direct Sale
DHL Fast Delivery
Dispatch Time: within 3 days after payment
24 hours hot line
Certifications
Company Information
Shandong Senter Electronic Co., Ltd. (registered trademark "Senter", stock abbreviation:Senter electronic, stock code: 831427), located in state-level High & New-Tech development zone of Zibo city, is a IOT industry solutions provider mainly based on Telecommunications, power and otherdomains. It was founded in 1996, currently owns more than 200 staffs, the registered capital is 30 million RMB, and covers an area of 20,000 square meters.

The company has six major functional departments and three business divisions of Communications, Power and IOT based on different product.
Communications business division focuses on providing various types of communication maintenance instruments and series solutions for communications operators and private network users, mainly including intelligent installation and maintenance PDA terminal, optical communications test equipment, access services test equipment, installation and maintenance tools Instruments, wireless test instruments and so on. The products cover the communications installation & maintenance fields from voice to broadband, from copper cable to fiber optic etc..
Power business division provides various types of integrated surveillance solutions for the power industry mainly including power transmission line intelligent inspection systems, intelligent substation auxiliary systems integrated monitoring platform, high-voltage equipment temperature on-line monitoring system, power IOT intelligent terminals etc. The products cover intelligent power grid transmission, substation, distribution and other fields.
IOT business division mainly provides IOT solutions for various other industrial applications scene, leading products include PDA, mobile industrial tablet PC, mobile IOT intelligent terminals, etc., mainly use the LTE communications, RFID / NFC reader, residents authentication, fingerprint identification, high-precision GPS / Beidou navigation and 1D/2D barcode scan technology. It can be widely used in transportation, public security, inspection, logistics and other various IOT applications industry.
If you're in need of st612 tdr cable fault locator with usb color screen handheld waveshape pulse testing to help with your business, please be free to buy with our factory. As one of the leading such manufacturers in China, we will offer you low price and unmatched services.